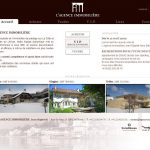 We are pleased to annonce the online publication of the new real estate portal of L'Agence Immobilière in Nyon.
The goal was to realize a portal combining the most recent technologies in the field while offering a smart & chic interface. Located in the heart of Nyon, L' Agence Immobilière proposes real goods of exception. The portal must have to carry out this haut-de-gamme image.
Among the various tools proposed on the portal, let us highlight the option 'Prestige Selection'. It offers on 1  click a preset multi-criteria research. To also quote the automatic posting of the results and a bookmark of weblinks on the activities of the area.
We wish full success at l'Agence Immobilière on the internet!